Lines of business
Investable nursing home companies often offer multiple services and have the following lines of business: nursing homes where elderly people can live longer-term; rehabilitation centres for patients of all ages, e.g. after an injury, a heart attack or a surgery; psychiatric care, short-term and long-term; and home care, which can be a solution before  a patient moves permanently to a nursing home or for chronic diseases and rehabilitation that can be treated without the need to go to a rehabilitation centre or hospital.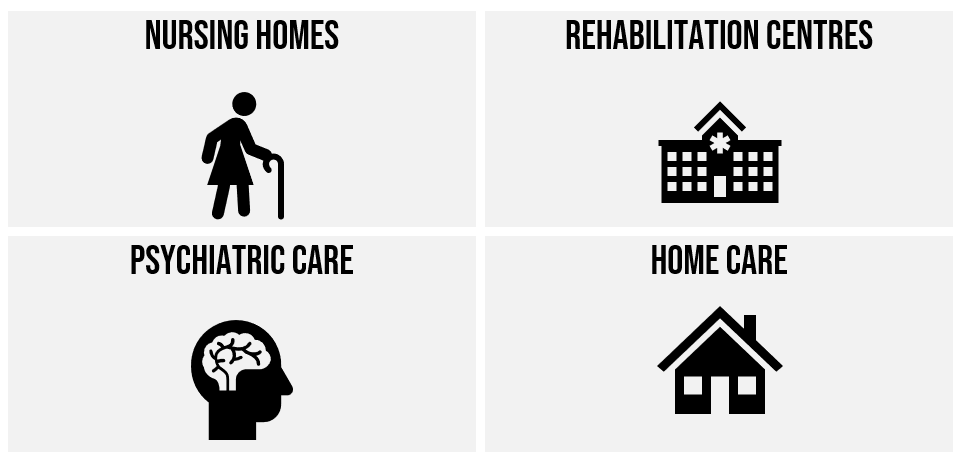 Business model
Companies' revenues may come from governments and health insurances, based on regulated tariffs, or may come directly from patients who are willing to pay privately for certain services. A combination of both is also possible. Operators provide hospitality (restaurant, room services, etc.) and healthcare. They rent or own the real estate.
Each country has different tariff models, although they often share similarities. Hence, every country has a different risk/return profile and may create niches.
One differentiator in the business model is the positioning in terms of pricing, ranging from lower cost to more premium facilities and services. Another differentiator is the capital intensity – whether the company will be owning the real estate or will be renting in order to free up capital.
Different companies and business models can have dramatically different impacts on returns on capital, see the chart below showing metrics for the three listed French players. The one with the highest return on capital has the most asset-light model, holding as little RE on its balance sheet as possible.
Competitive position
The business has significant barriers to entry represented by:
Licensing requirements

Which require expertise and imply significant compliance costs.

Location

Real estate can be a competitive advantage in terms of attractivity for the patients as well as for their families.

Capital

Needed for the real estate, be it to own it or to rent it (credit quality of the tenant).

Scale

High fixed costs require scale, but after a certain point there is no clear evidence that scale improves margins.

Organisation and Management

Companies need to hire, train, retain qualified and capable staff. Scandals like in the case of Orpea show that this is not trivial, especially when dealing with large organisations and multiple locations.
Demand drivers
Ageing population

75+ population expected to double by 2050. On an annualised basis, this is not particularly high, though.

Life expectancy

Expected to keep increasing, covid-like pandemics apart. Chronic conditions requiring support should be more prevalent.

distance

Increasing distances between children with their families and elder parents, within the same country or even in different countries. Someone needs to take care of them.

Wealth

Accumulated wealth can be used to support retirement, transferring wealth from elderly to service providers and immigrant workers.
The expected increase in chronic diseases, while significant is not very large on an annualised basis, due to the long time horizon. A similar effect as in the case of the population pyramid: doubling in 30 years means just increasing at a rate of 2% p.a.
Estimates for dementia and Parkinson are for low single digit growth p.a. by 2030, which would support steady demand growth for these services in the long term, albeit not representing spectacular growth prospects for these businesses. For example, a study by Tomaskova et al. estimates increases in the European population with Alzheimer disease from ca. 7.5m in 2013 to 10.8m in 2030 and 14.9m in 2050. While significant, which is very sad from a human point of view, these numbers correspond to very low growth rates of ca. 2% p.a.
Pandemic risks, as we have seen during the covid crisis, can significantly affect demand for nursing homes, especially if patients are more vulnerable to the virus.
Regulatory risks are also a significant driver as they influence the possibility for patients to afford certain services. If personal wealth is not sufficient to pay for a nursing home, government or insurance payments become a key determinant for actual demand. Worsening financial situations and conditions for European governments may lead at some point again to austerity measures that could negatively impact reimbursement rates and, indirectly, demand.
Supply  dynamics
Oversupply is a real risk, and the US market has been an example of overinvestment in the run up to the 2008 crisis with occupancies dropping from 2007 to 2010, and again from 2014 to 2019. Assisted living performed worse than independent living in the second wave.
As long as interest rates remain at relatively elevated levels, overinvestment is rather unlikely.
Taking official data from France, a key investment market, we see the following growth in capacity from 2009 to 2018. Disciplined growth, avoiding oversupply, is a must, especially in a business with relatively thin margins.
| | | | | |
| --- | --- | --- | --- | --- |
| Category | Description | 2009 | 2018 | Growth (p.a.) |
| USLD | Long-term care | 47'966 | 31'302 | -4.6 % |
| EHPA | Independent living | 59'966 | 27'020 | -8.5% |
| EHPAD | Assisted living | 496'237 | 594'684 | +2.0% |
| SSIAD | Home care | 108'181 | 127'117 | +1.8% |